Spring 2021 - David C. Driskell's Students
December 22, 2020 David C. Driskell Center for the Visual Arts and Culture of African Americans and the African Diaspora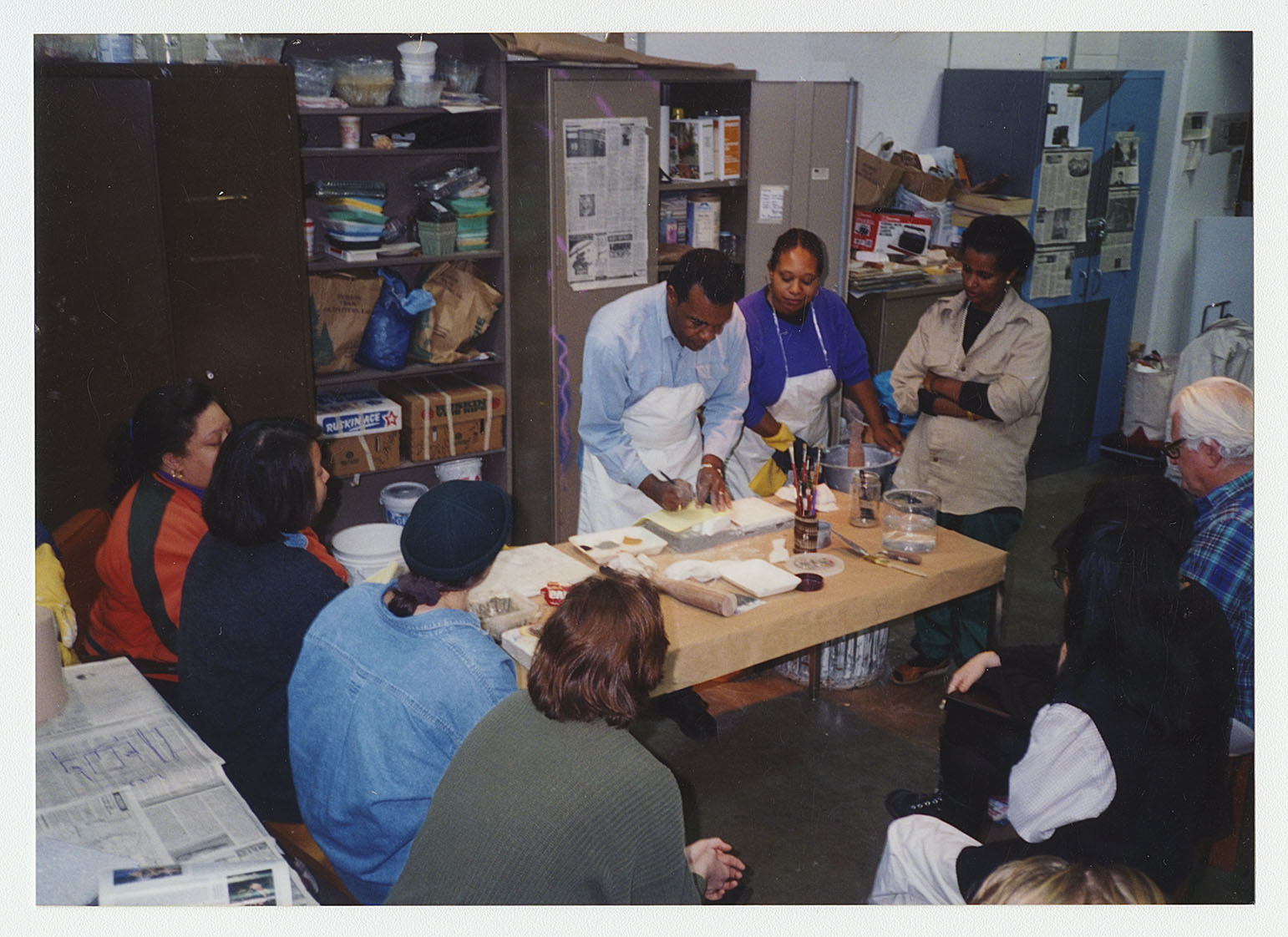 David C. Driskell Center to Present David C. Driskell's Students
David C. Driskell and students teaching 'Methods and Materials'
at the University of Maryland, College Park (May 1995).
Photograph is part of donation of David C. Driskell Papers.

Contact: Ms. Dorit Yaron
Title: Deputy Director
Phone: 301-405-6835, Email: dyaron@umd.edu


COLLEGE PARK, MD. — The David C. Driskell Center for the Study of the Visual Arts and Culture of African Americans and the African Diaspora at the University of Maryland is proud to announce its Spring 2021 virtual exhibition, David C. Driskell's Students. The exhibition features works by students of David C. Driskell, whose teaching career spanned over five decades. The exhibition will be available online on February 1st 2021.
ABOUT THE EXHIBITION
This exhibition is part of the David C. Driskell Center's yearlong program honoring the life and achievements of Professor David C. Driskell, who passed away on April 1st 2020 at the age of 88. Driskell, an artist, scholar and collector, was first and foremost a teacher and mentor. His teaching career began as early as 1955, when he was appointed as an Assistant Professor of Art at Talladega College, Ala. He held subsequent teaching positions at Howard University, Washington, DC; Fisk University, Nashville, Tenn.; and University of Maryland, College Park, from which he retired in 1998 as Professor Emeritus.
David C. Driskell's Students exhibition follows the exhibition The David C. Driskell Papers, held in the fall of 2020; both exhibitions highlight lesser known aspects of David C. Driskell's life. Driskell educated many students as artist and art historians. The artists represented in this exhibition include:
Terry Adkins, Michael Atkins, Jeremy Austin, Arthur Bacon, Pati Beachley, Tim Beard, Michael Borders, Gloria Brown Simmons, Matthew Clay-Robison, Emily Conover, T.J. Dedeaux-Norris, Janice Darden Frame, Joseph Hamilton, Shaun Leonardo, Eva Lundsager, Cecilia Mandrile, Angela W.C. Niyi, Mary Lovelace O'Neal, Adrienne Patel, Beverly Paul, Jefferson Pinder, Stephanie Pogue, Karen Powell, Ellington Robinson, Preston Sampson, Gail Shaw-Clemons, John Simmons, Sylvia Snowden, Frank Stewart, Lou Stovall, Franklin White, Ernestina "Tina" Wyatt, and Sophia Zarambouka
Among the many art historians who studied with Professor Driskell at University of Maryland are Renée Ater; Tritobia Hayes Benjamin, his first PhD student, graduated in 1991; Adrienne L. Childs; Christa Clarke; and Tuliza Fleming.
The works in this exhibition vary in style, subject matter, and choice of medium. The artworks span abstract and representational works; landscape, fantasies, and figurative pieces; works with social and political messages; and paintings, mixed media, drawings, prints and assemblies. Moreover, in addition to sharing David C. Driskell as a teacher, more than anything else, the artists share their love, appreciation, and admiration to Driskell, both as a friend and a mentor.
The exhibition was originally designed to be installed in the David C. Driskell Gallery on the University of Maryland, College Park campus; however, it was decided to exist as a virtual exhibition only. Therefore, it was loosely curated by the David C. Driskell Center team, who decided to exhibit up to three works by each of the artists that responded to the call to submit their works for this exhibition. Each artist has a devoted section with a biography, images, and often a few sentences about the artist's recollections of Driskell as a teacher, mentor, and friend.
Ellington Robinson, for example, a graduate of the Department of Art at the University of Maryland, College Park was also a graduate student fellow at the David C. Driskell Center. Though Professor Driskell had already retired by then, Robinson worked with Professor Driskell during his study and fellowship at Maryland and he said:
"He was such a nurturing figure – he shared his wonderful family with me; he believed in me, and although very patient, he only had very high expectations. I will forever miss him. What a teacher, what a friend, what an ambassador of a gentleman."
The David C. Driskell Center's Director, Professor Curlee R. Holton, adds that:
"The role as teacher and mentor is a sacred one. It requires a deep sense of faith in the potential of each student. David Driskell personified this calling with a passion for the power of the learning process. As a student Driskell's teachers invested in him without reservation, and as a teacher Driskell continued this tradition by instilling in his students a belief in their capacity to achieve. He established the foundation of his pedagogical approach to the creative enterprise. This enterprise imparted a passionate view of the divine quality inherent in the human act of creation. As a man of faith, he integrated his beliefs in the common good of man in his teaching philosophy. He utilized his broad knowledge of art and history to inspire generations of artists and scholars. His legacy is manifest in the achievements of his students and the mentorship of others. Teach One Reach One."
In conjunction with the exhibition, the Driskell Center is planning several educational programs, including a panel discussion with selected group of Professor Driskell's students as well as a conversation with Driskell's colleagues. For additional details, please visit the Driskell Center website at www.driskellcenter.umd.edu.
To register for the February 11th Gallery Talk with the Driskell Center Staff, click here.
ABOUT THE DAVID C. DRISKELL CENTER
The David C. Driskell Center honors the legacy of David C. Driskell (1931-2020) — a Distinguished University Professor Emeritus of Art, Artist, Art Historian, Collector, Curator, and Philanthropist — by preserving the rich heritage of African American visual art and culture. The Driskell Center is committed to preserving, documenting, and presenting African American art, as well as replenishing and expanding the field of African American art. All programs at the David C. Driskell Center are free and open to the public. The facility is wheelchair accessible. The Driskell Center's programming is supported in part by a grant from the Maryland State Arts Council and private donors.
The Driskell Center Gallery is currently closed due to the COVID-19 pandemic. For further information regarding exhibitions and activities at the David C. Driskell Center, please call 301.314.2615, email driskellcenter@umd.edu, or visit www.driskellcenter.umd.edu.