Press Release: [Un]Common Collections: Selections from Fifteen Collectors
June 02, 2020 David C. Driskell Center for the Visual Arts and Culture of African Americans and the African Diaspora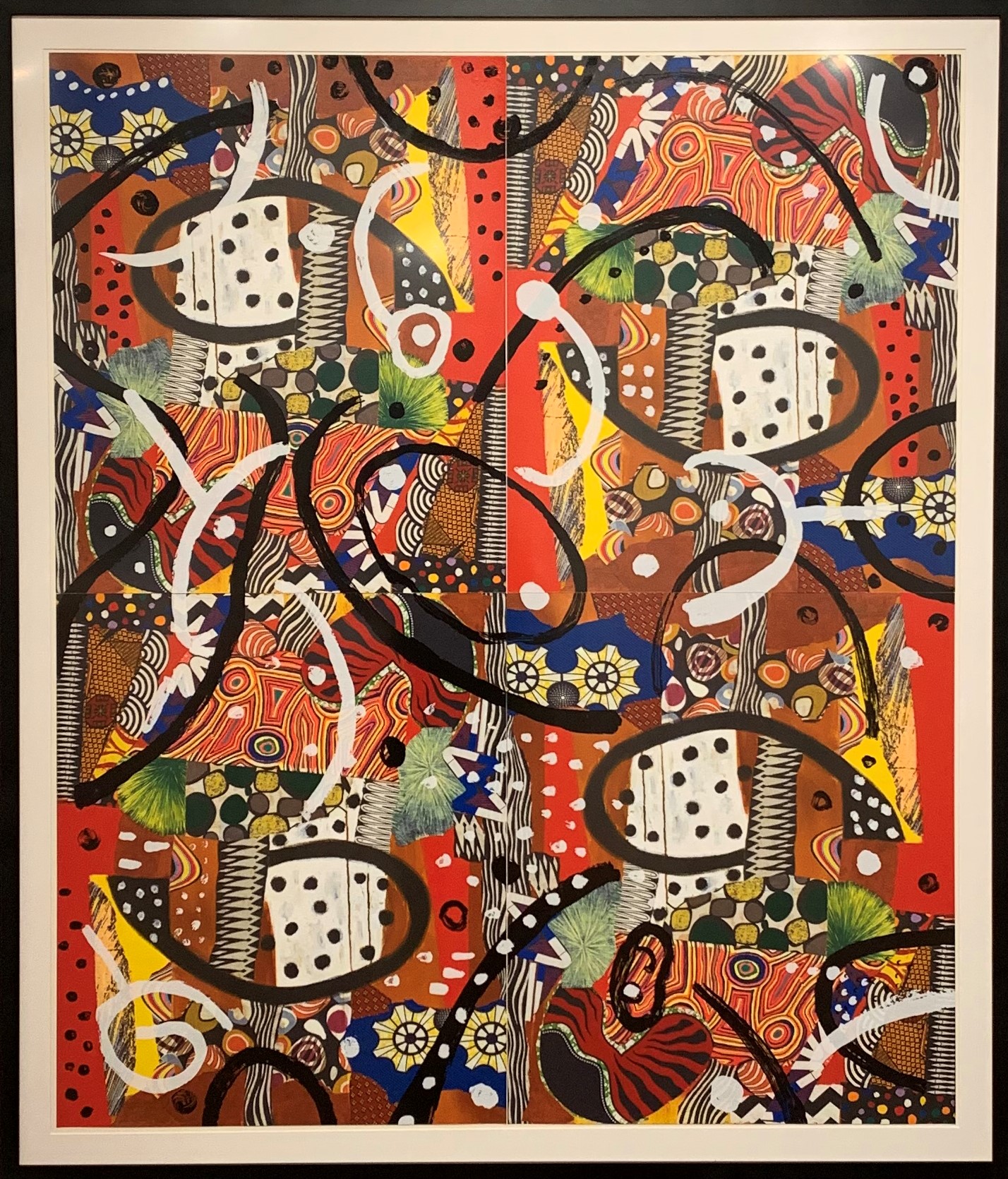 David C. Driskell Center to Present a Selection from Fifteen Collectors
COLLEGE PARK, MD. — The David C. Driskell Center for the Study of the Visual Arts and Culture of African Americans and the African Diaspora at the University of Maryland is proud to announce its Fall 2019 exhibition, [Un]Common Collections: Selections from Fifteen Collectors. The exhibition focuses on fifteen collectors who over the years have been associated with the Driskell Center's activities. The exhibition is on display at the Driskell Center from Thursday, September 19th 2019 through Friday, November 22nd 2019 with an opening reception on Thursday, September 19th 2019 from 5-7PM.
ABOUT THE EXHIBITION: Over the years, the Driskell Center has exhibited several major collections and focused on increasing the knowledge of collectors of African American art through its Collector School by providing training and education to new and established collectors about the lifetime process of assembling and caring for an art collection. As dedicated collectors of African American art, the selected collectors have made large contributions by collecting and studying works by African American artists. By showcasing selected works from those collections, the Driskell Center hopes to highlight each collector's approach to collecting, explores each collector's legacy, and encourages others, especially young collectors, to follow their example. The works included in the exhibition were
created by both well-known and lesser-known artists.
Edward Mitchell Bannister (1828-1901)
Will Barnet (1911-2012)
Richmond Barthé (1901-1989)
Romare Bearden (1911-1988)
Camille Billops (1933-2019)
Willie Birch (b. 1942)
James Brantley (b. 1945)
Vivian E. Browne (1929-1993)
Barbara Bullock (b. 1938)
Selma Burke (1900-1995)
Calvin Burnett (1921-2007)
Elizabeth Catlett (1915-2012)
Claude Clark (1915-2001)
Kevin Cole (b. 1960)
Christa David (b. 1979)
Eugène Delacroix (1798-1863)
Beauford Delaney (1901-1979)
David C. Driskell (b. 1931)
Angela Franklin (b. 1985)
Herbert Gentry (1919-2003)
Sam Gilliam (b. 1933)
L. Kasimu Harris (b. 1978)
Margo Humphrey (b. 1942)
Richard Hunt (b. 1935)
Bill Hutson (b. 1936)
Mary Jackson (b. 1945)
Stefanie Jackson (b. 1961)
William H. Johnson (1901-1970)
Martina Johnson-Allen (b. 1947)
Loïs Mailou Jones (1905-1998)
Paul Keene (1920-2009)
Jacob Lawrence (1917-2000)
Samella Lewis (b. 1924)
Al Loving (1935-2005)
Faheem Majeed (b. 1976)
Delita Martin (b. 1972)
E.J. Montgomery (b. 1933)
Joe Overstreet (b. 1933)
Howardina Pindell (b. 1943)
Rose Piper (1917-2005)
James A. Porter (1905-1970)
Martin Puryear (b. 1941)
Alison Saar (b. 1956)
John T. Scott (1940-2007)
Charles Searles (b. 1937)
Danny Simmons (b. 1953)
Arvie Smith (b. 1938)
Nelson Stevens (b. 1938)
Freddie Styles (b. 1944)
Henry O. Tanner (1859-1937)
William "Bill" Taylor (1853-1949)
Alma Thomas (1891-1978)
Dox Thrash (1893-1965)
Bob Thompson (1937-1966)
Stephen Towns (b. 1980)
Charles White (1918-1979)
Charles Williams (b. 1984)
Philemona Williamson (b. 1951)
The exhibition includes 64 works spanning from 1860 to 2018. The curators, Professor Curlee R. Holton and Dorit Yaron, respectively the Center's Executive and Deputy Directors, selected four works from each of the fifteen collections as well as from the David C. Driskell Collection. The selected art collectors include: Mr. Wesley and Mrs. Missy Cochran; Mr. Kerry and Mrs. C. Betty Davis; Prof. David C. Driskell; Mr. Melvin and Mrs. Juanita Hardy; Mr. Neil and Mrs. Juanita Hartbarger; Mr. Eric Key; Mr. William T. and Mrs. Paula Mitchell; Mr. Lewis Tanner Moore; Mr. Otis and Mrs. Harryette Robertson; Mr. William C. Robinson II; Dr. Robert E. and Mrs. Jean Steele; Mr.
Cleophus Thomas, Jr.; Mr. Larry and Dr. Brenda Thompson; Mrs. Patricia Walters; Drs. Carnell Locke and Dianne Whitfield-Locke.
In their collectors' statement, Mr. Kerry and Mrs. C. Betty Davis wrote that "Collecting art has allowed us to create and enjoy a living environment with pleasant, positive, and inspirational images that provide spiritual reinforcement and purpose. We collect works by African American artists because their stories and experiences are also ours… We believe that visual records of African American experiences should be protected, preserved and shared…" Mr. William T. and Mrs. Paula Mitchell wrote that, "…We have been introduced to a history of which we had little or no knowledge; a history which had essentially been ignored, hidden, misinterpreted or blatantly changed. African
American artists and the art they create have opened our eyes and our minds to a broader and truer understanding of American history."
A brochure highlights each collector and collection, including a short description of the collection and the reasons/motivations behind its assemblage.
Dorit Yaron explains: "This exhibition provides the Driskell Center the opportunity to recognize some of the major collectors with whom we have worked with for over a decade; they graciously open their homes allowing us to borrow works from their collections for exhibitions and public view. Moreover, we hope that their collections will inspire young collectors to continue to preserve the works by African American artists."
In conjunction with the exhibition, the Driskell Center is planning several educational programs; among them a Collector's Conversation and a Collector's School. For additional details, please check the Driskell Center website at driskellcenter@umd.edu.
ABOUT THE DAVID C. DRISKELL CENTER
The David C. Driskell Center honors the legacy of David C. Driskell—a Distinguished University Professor Emeritus of Art, Artist, Art Historian, Collector, Curator, and Philanthropist—by preserving the rich heritage of African American visual art and culture. The Driskell Center is committed to preserving, documenting, and presenting African American art, as well as replenishing and expanding the field of African American art. All programs at the David C. Driskell Center are free and open to the public. The facility is wheelchair accessible. For further information regarding exhibitions and activities at the Driskell Center, please call 301.314.2615 or visit www.driskellcenter.umd.edu. The Driskell Center's programming is supported in part by a grant from the Maryland State Arts Council and private donors.