Successions: Prints by African American Artists from the Jean and Robert Steele Collection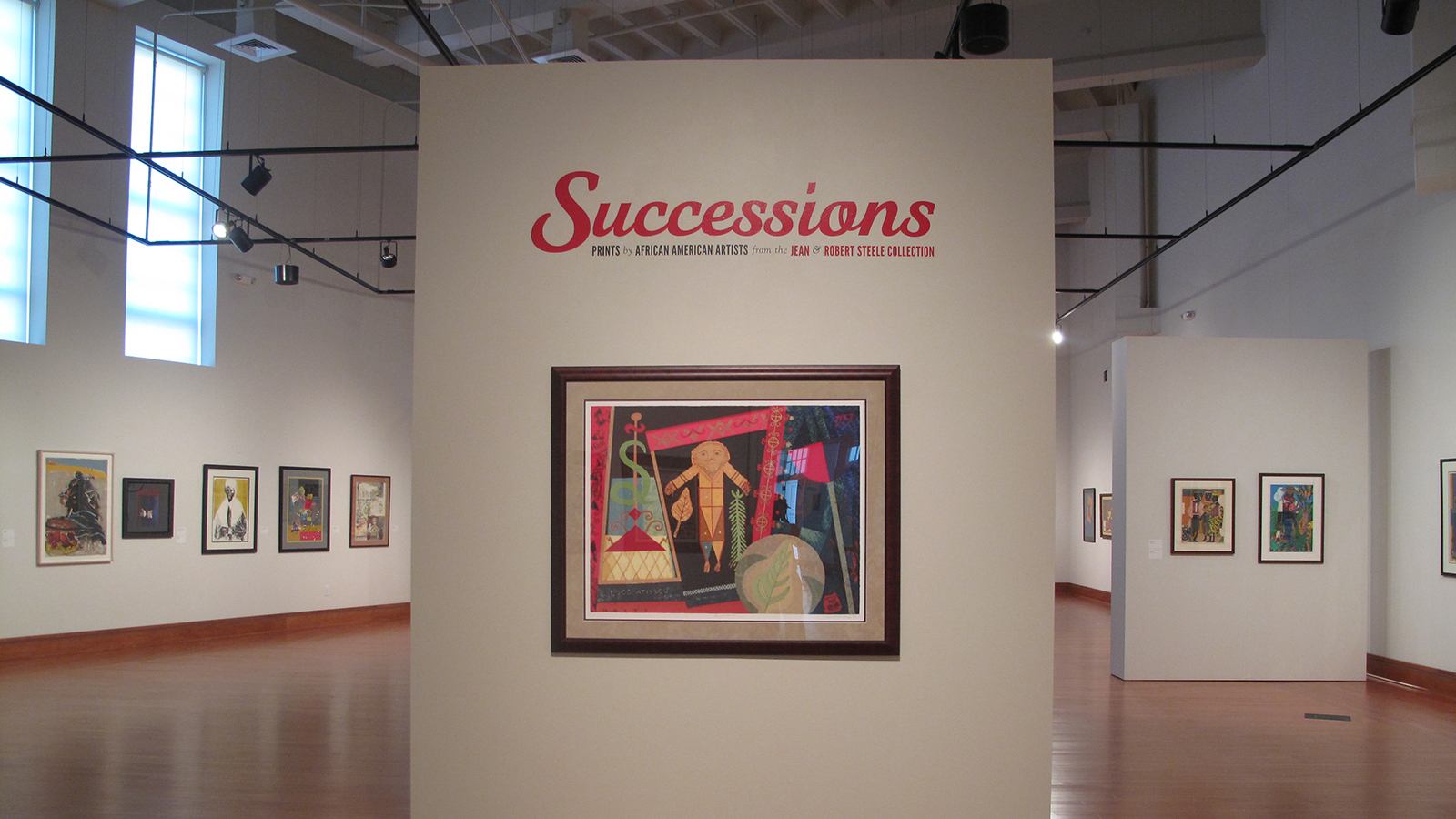 Successions: Prints by African American Artists from the Jean and Robert Steele Collection
David C. Driskell Center for the Visual Arts and Culture of African Americans and the African Diaspora
Thursday, February 2, 2012 12:00 am-Tuesday, May 22, 2012 12:00 am
Successions: Prints by African American Artists from the Jean and Robert Steele Collection, an exhibition of works by some of the most highly regarded African American artists, organized by the David C. Driskell Center for the Study of the Visual Arts and Culture of African Americans and the African Diaspora at the University of Maryland, opened on Thursday, February 2, 2012 with a public reception from 5-7PM and remained open until June 22, 2012. 
Forty-five artists, using traditional printmaking techniques such as etching, monoprint, lithography, linocut and silkscreen, created the sixty-two works on display. The exhibition highlights the remarkable focus of the Jean and Robert Steele collection. For the last four decades, the Steeles have developed a collection of hundreds of prints and works on paper by African American artists.
Instrumental in the Steele's collecting has been their patronage of printmaking workshops that have been established by, and focus on, African American artists, such as Bob Blackburn's Printmaking Workshop, Inc. in New York City; Allan Edmunds's Brandywine Workshop, Philadelphia, PA; Lou Stovall's Workshop, Inc. and Percy Martin's WD Graphics Studio, both in Washington, DC. In addition to workshops established by African Americans, works in the collection also represent various institutions with which African American artists have collaborated, such as Tamarind Institute, Albuquerque, NM and the Rutgers Center for Innovative Print and Paper, New Brunswick, NJ.
Installation Images
Artists in the Exhibition
Emma Amos
Benny Andrews
Romare Bearden
Camille Billops
Robert Blackburn
Moe Brooker
Calvin Burnett
Nora Mae Carmichael
Elizabeth Catlett
Kevin Cole
Robert Colescott
Allan Rohan Crite
Louis Delsarte
David C.Driskell
Allan Edmunds
Melvin Edwards
Sam Gilliam
Varnette Honeywood
Margo Humphrey
Wadsworth A.Jarrell
Loïs Mailou Jones
Paul Keene
Gwen Knight
Jacob Lawrence
Hughie Lee-Smith
Samella Lewis
Percy B. Martin
Tom Miller
Evangeline J. Montgomery
Keith Morrison
Joseph Norman
Mary Lovelace O'Neal
Anita Philyaw
Stephanie Pogue
John T. Riddle
Faith Ringgold
Alison Saar
Betye Saar
Preston Sampson
Frank Smith
Vincent Smith
Lou Stovall
James L. Wells
William T. Williams
John Wilson
Travel Schedule
Thursday, February 2, 2012 - Friday, June 22, 2012
David C. Driskell Center 1207 Cole Student Activities Building, University of Maryland, College Park, MD 20742
August 29 - November 16, 2011
St. Mary's College Montgomery Hall 18952 E. Fisher Road St. Mary's City, MD 20686
May 1 - July 15, 2010
Downing-Gross Cultural Arts Center 2410 Wickham Avenue Newport News, VA 23607
January 23 - April 18, 2010
Mobile Museum of Art 4850 Museum Drive Mobile, AL 36608
August 21, 2008 - October 6, 2008
Augustana College Art Museum 639 38th Street Rock Island, IL 61201
January 24 - April 16, 2008
King Arts Complex and the Hale Cultural Black Center, Ohio State University
867 Mt. Vernon Avenue Columbus, OH 43210
October 8, 2007 - January 3, 2008
Krasdale Gallery 400 Food Center Drive Bronx, New York, NY 10474
October 1 - December 2, 2006
Clark Atlanta University Art Galleries 223 James P. Brawley Drive, SW Atlanta, GA 30314
February 12 - June 4, 2006
Wichita Art Museum 1400 West Museum Blvd.,Wichita, KS 67203
January 7 - March 20, 2005
Tubman African American Museum 340 Walnut Street Macon, GA 31201
November 7 - December 17, 2004
North Carolina Central University, Art Museum P.O. Box 19555 Durham, NC 27707
July 11 - August 22, 2004
The James E. Lewis Museum of Art, Morgan State University
1700 East Cold Spring Lane Baltimore, MD 21215
April 3 - May 30, 2004
Muscarelle Museum of Art, The College of William and Mary
Post Office Box 8795 Williamsburg, VA 23187
January 11 - March 12, 2004
University Art Gallery, University of Scranton, Scranton, PA, 18510
September 19 - October 26, 2003
Art Gallery, Carleton College 1 North College Street Northfield, MN 55057
April 1 - April 29, 2002
The Art Gallery, University of Maryland
1202 Art-Sociology, University of Maryland College Park, MD 20742