Selected Works From The Driskell Center Tour U.S.
October 31, 2016 Art History and Archaeology | College of Arts and Humanities | David C. Driskell Center for the Visual Arts and Culture of African Americans and the African Diaspora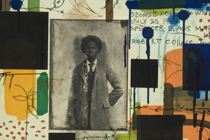 Prominence and Complexity: Major exhibit of post-war African American Art tours U.S.
Barbara Trainin Blank | The Burg
"To great fanfare, the National Museum of African American History and Culture opened recently in Washington, D.C., the newest member of the Smithsonian Institution.
"Therefore, it seems like perfect timing that the Susquehanna Art Museum is mounting an exhibit of post-war works entitled, "African American Art since 1950: Perspectives from the David C. Driskell Center." The exhibit opened last month in SAM's main gallery and continues through Jan. 22.
"The exhibit is a potpourri. Forty-two artists are featured, including such established names as Romare Bearden, Elizabeth Catlett and Sam Gilliam, as well as new visionaries like Chakaia Booker, Lorna Simpson and Kara Walker, said Dorit Yaron, its co-curator along with Dr. Robert E. Steele.
Read the complete article at The Burg