Reflection on the life of David C. Driskell by Curlee R. Holton, the Driskell Center's Director
May 30, 2020 David C. Driskell Center for the Visual Arts and Culture of African Americans and the African Diaspora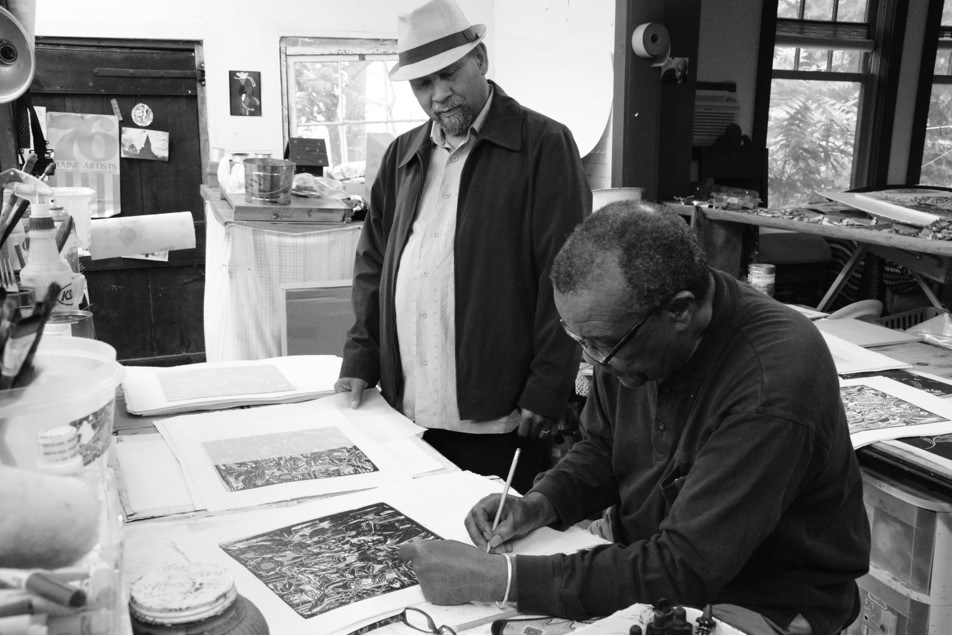 Legacy of a Giant: Reflecting on the Passing of David C. Driskell
 David C. Driskell signing the limited edition of "The Legend"                                                                                                                                                                                                                                                                                                                   from the Maine Suite Series with printmaker Curlee R. Holton, 2013
April 9, 2020
There have been many condolences and reflections from admirers of David C. Driskell after his recent passing on April 1, 2020 at the age of 88 years old. His fellow artists, friends, and students are mourning this heartbreaking loss. Prof. Driskell, the namesake of our institution, the David C. Driskell Center at the University of Maryland, College Park, was always there to support the Center and to inspire us in our mission to celebrate the contributions of African American artists and artists of the diaspora.
It is difficult to imagine a world without David. He not only brought a grace and devotion to his commitment to us, to African Americans, and to members of the art world, but he was also a national treasure that knew no bounds in his openness to share his knowledge and embrace the ambitions of young scholars who sought to carry on his trailblazing legacy of achievement and excellence.
At the David C. Driskell Center we frequently witnessed his generosity and gracefulness firsthand. Not only during lectures and events did both I and Dorit, the Driskell Center's deputy director, discuss the arts with David, we had many occasions to sit with him over a meal along with members of his family and friends. These occasions were informal and often included luminaries from all walks of life and nations.
His reputation as an exceptional scholar, lecturer, educator, artist, and mentor extended far beyond our shores. Before I joined the Driskell Center in late June of 2012, I was a welcomed member of the Driskell family. I began working with David as his master printer in 2003, and together we produced over forty unique editions. I made my annual summer sojourn to Falmouth, Maine to work with David in his studio on these collaborative printmaking projects. We were working on a new edition for The High Museum of Art, Atlanta, when he transitioned. Our relationship grew and included organizing exhibitions of his works internationally. We travelled together to Mexico, Costa Rica, Japan, France, and Greece. Once while walking down a cobblestone street in Oaxaca, Mexico we were stop by a stranger who recognized David and called out his name to stop us; he greeted David whom he had always wanted to meet.
David's relationships extended far beyond our immediate world and demonstrated how deep his faith was in the potentials of all those he had a chance to commune with. While in Costa Rica, working on a major print project "Woman in Interior" which David often referred to as his opus, a call came to our hotel from the Presidential Palace; we were asked if David Driskell was actually in San Jose, the capital of Costa Rica. After speaking to the curator of the Presidential Collection, an invitation was extended for us to tour their collection. After we ended the call, I mentioned to David that I had been coming to Costa Rica for the past 10 years to work and nobody had ever asked if Curlee was in town. Once we completed the printing in San Jose, "Woman in Interior" was added to the permanent collection of the Costa Rican Presidential Palace.
On another occasion in Athens, Greece, we presented papers about the Driskell Center and arts collaborations at the 2013 International Arts Conference. David came from Italy to join us; and two of his students from his days as a professor at Howard University in the early 1960s joined us afterwards. The two students, both Greek nationals, embraced David and recounted their days at Howard with him as their dear teacher. David still remembered their names. We celebrated his 85th birthday together on a balcony facing the Acropolis in the distance.
Last year we began a national speaking tour organized as the "Living Legacy" to share David's story in a personal dialogue with me and other professional colleagues that were witnesses to David's amazing achievements. Several venues were already lined up to host it next year, and although we will not be able to continue presenting it, I am pleased to share that we reordered all past talks, and we will screen them at the David C. Driskell Center during next year's program which will be devoted to celebrating David's life and legacy through exhibitions of his Papers, works of his students, panel discussions, and more.
I could go on and on about the many occasions I have witnessed David's generosity, brilliance, and welcoming, as well as his total recall of dates and names. David C. Driskell's humanity and faith in all our potentials was his prayer and his practice. The David C. Driskell Center will keep that faith alive and advance the values and commitments David had made to the celebration of the arts, culture, and education.