New 'Promise' to Commemorate Pines' Inauguration
April 21, 2021 David C. Driskell Center for the Visual Arts and Culture of African Americans and the African Diaspora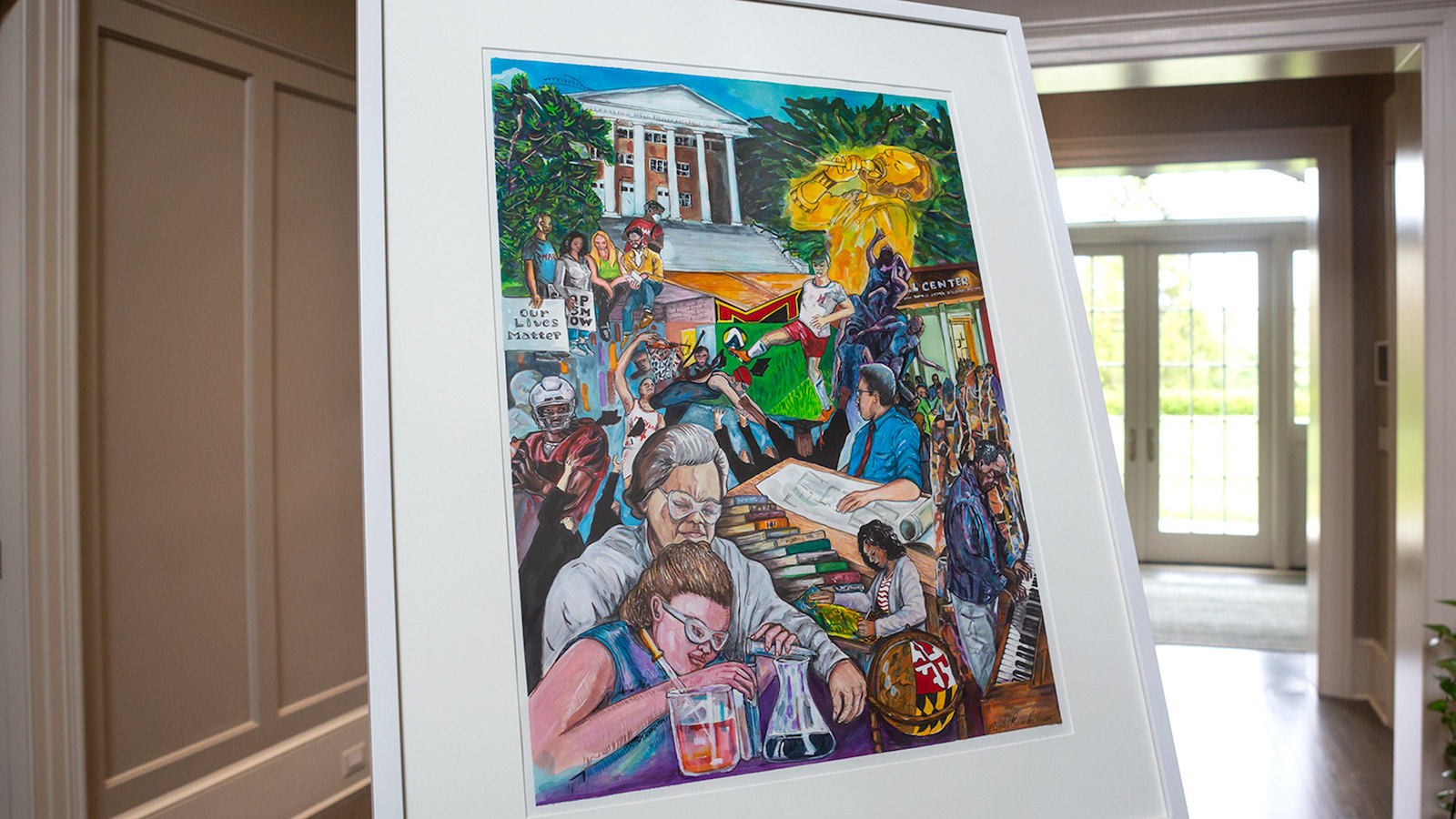 Artwork by Driskell Center director celebrates UMD creativity, athletics, activism.
By Sala Levin '10 | Maryland Today
Black and rose-colored liquids simmering in beakers. A football player poised to hurtle the ball forward. A pianist, books and a central figure looking out over it all and beyond, to the future.  
The promise of a University of Maryland education—immersion in a world full of new ideas, opportunities and experiences—is brought to colorful life in a new, limited-edition print created for President Darryll J. Pines' inauguration by Curlee R. Holton, director of UMD's David C. Driskell Center for the Study of the Visual Arts and Culture of African Americans and the African Diaspora and artist-in-residence in the university's art department.
"A Promise Made, A Promise Kept," the name of the ink drawing and watercolor piece, was unveiled last night at the "Flagship's Finest: An Evening of Gratitude" event for supporters of the university. It is displayed at University House. A limited number of prints, created by master printmaker Jase Clark at Ironlung Editions studio in Philadelphia, will be available for purchase through the Driskell Center.
"This beautiful piece of work will be a reminder to us of the promise of excellence and achievement that we have made in the next chapter of our great university," Pines told the crowd during the virtual event. 
The artwork's title "embodies the notion that education is a promise made to us, that with studying and experiences with academic pursuits we can prepare ourselves to be successful and effective in the future," said Holton. "That … is kept by someone like Dr. Pines."
As Holton envisioned what the work would look like, he considered what images would be vital to capture the feeling of life at UMD. Athletics, activism and the arts were all essential. In the print, in addition to the football player, another athlete dribbles a soccer ball while a third slam dunks a basketball. Some students carry signs reading "Our Lives Matter," and a budding artist paints in the foreground.
Music is present, too. In one corner, Driskell, the late professor emeritus, artist, collector and scholar, plays piano, while at the top, nestled in some trees, Maurice White, the lead singer of R&B group Earth, Wind and Fire croons the keep-on-keeping-on anthem, "Keep Your Head to the Sky." (The band happens to be Pines' favorite.)
"Music lifts our spirit and gives us this vision," said Holton. "It taps into our emotions and our imagination. I think that's what Dr. Pines' role as president can be for us."
In the center of the piece, a Pines-like figure surveys the scene. "His sleeves are rolled up, he's busy at work looking at plans on his desk—plans for the future," said Holton.
Master printmaker Jase Clark of Ironlung Editions studio in Philadelphia made limited-edition prints of "A Promise Made, A Promise Kept" using a silk-screen printing method. Watch a time-lapse video of the process.
This story appears in Maryland Today. 
Photo by Stephanie S. Cordle.