Emancipating the Past: Kara Walker's Takes of Slavery and Power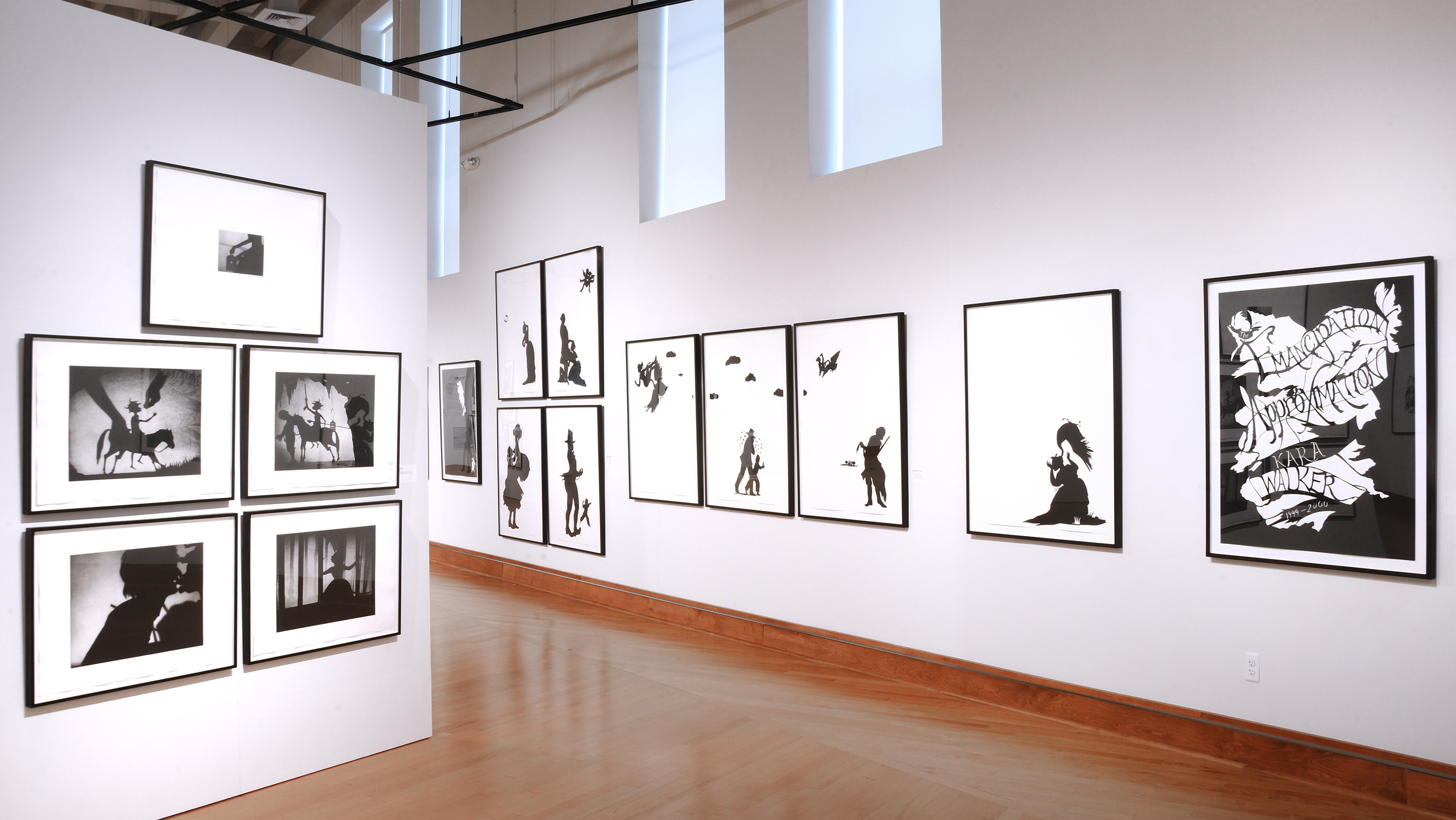 Emancipating the Past: Kara Walker's Takes of Slavery and Power
David C. Driskell Center for the Visual Arts and Culture of African Americans and the African Diaspora
Thursday, February 5, 2015 12:00 am-Friday, May 29, 2015 12:00 am
The David C. Driskell Center at the University of Maryland is proud to present Emancipating the Past: Kara Walker's Tale of Slavery and Power. The exhibition features about 60 works; along with Walker's signature black paper cutout silhouettes, an array of prints, a wall installation, and a video will also be showcased. The exhibition opening reception was held on Thursday, February 5, 2015 from 5 to 7PM, and the exhibition was on display at the Driskell Center until Friday, May 29, 2015.
Kara Walker is one of the most successful and widely known contemporary African American artists today, remarkable for her radical engagement with issues of race, gender, and sexuality, and for the media with which she pursues her studies. Her work pries apart and examines the injustices that African Americans have faced throughout the long and tumultuous history of the United States. She explores power relationships in American society through the vehicle of representations of slavery, race, sexuality, violence, and gender set in the antebellum South. The works, which are inventive and painful, but also satirical and humorous, were selected for the show to display the range of approaches Walker has taken in exploring the legacy of slavery for contemporary American identity.
Walker's selection of particular media is both aesthetically and conceptually driven. Often using outmoded technologies or old-fashioned techniques, she draws on the historical memory of her media, bringing her contemporary perspective into confrontation with the artifacts of history. By looking carefully at a selection of Walker's projects in different media, this exhibition will emphasize the interface between technique and concept in her work. Walker's use of historically inflected techniques investigates the question: "How is contemporary identity shaped and affected by the imagery from the past?"
In an early interview with the Museum of Modern Art in 1999, Walker speaks frankly about some of the motivations for her subject matter and aesthetic: "[When I moved to Georgia] I became black in more senses than just the kind of multicultural acceptance that I grew up with in California. Blackness became a very loaded subject, a very loaded thing to be--all about forbidden passions and desires, and all about a history that's still living, very present." Emancipating the Past, organized by the Jordan Schnitzer Museum of Art, University of Oregon, Eugene, from the Portland, Oregon-based collection of Jordan D. Schnitzer, is illuminated by both deep personal experience and rigorously researched history. This multifaceted informing of her work makes her pieces both immediate and overarching, both personal and historical, both accessible and unthinkable.
Professor Curlee R. Holton, Executive Director of the David C. Driskell Center, adds: "Kara Walker and her work represent a seminal juncture in the discourse on race and the representation of the black body as art subject and object. Her work, which has provoked passionate reactions in audiences around the world, has been described as brilliant and original by the art establishment while some audiences with a more personal investment in her re-imagination of historical events claim her to be a constructed foil to displace a more honest and penetrating critique of the racial history of America."
Installation Images